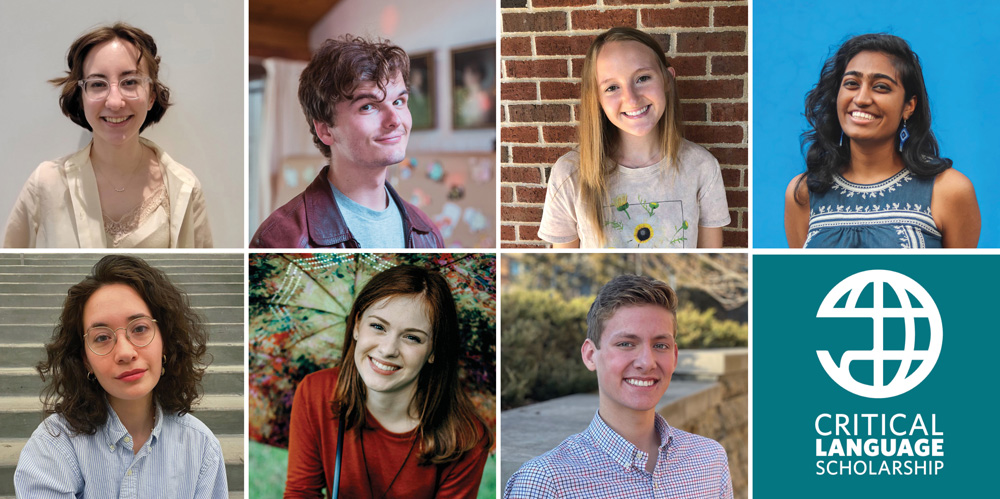 This summer, seven University of Iowa students will head abroad for intensive language studies in Arabic, Chinese, Portuguese, Hindi, Urdu, and Persian, thanks to the Critical Language Scholarship, a highly competitive award funded by the U.S. Department of State.
Intended to help broaden the base of Americans studying and mastering critical languages while building relationships between people of the United States and other countries, the Critical Language Scholarship (CLS) Program provides American students with eight to ten weeks of fully-funded summer language study of one of 15 critical languages.
"I am very excited about this year's record number of seven (CLS) recipients who have been chosen from a very large, competitive national pool," said Karen Wachsmuth, associate director of international fellowships. "These students have received excellent language and culture training here at the UI that will propel them into an exciting summer of immersive language and cultural activities abroad funded by the U.S. State Department."
In addition to building their language skills, recipients have expressed excitement about immersing themselves in a new culture and how their experiences will likely influence the trajectory of their future careers.
"Before anything, one of my life goals is to become fluent in a second language," said international studies and Chinese major, Marissa Schooley, who will be studying Mandarin. "I expect it to be a lifelong process, but the CLS program will allow me to fast-forward that process. In the future, I hope to translate novels or use my language skills to serve the public."
"CLS is an important investment in their future professional career goals," said Wachsmuth. "After completing the program, they will be eligible to apply for federal government jobs at a higher level. Two of last year's University of Iowa CLS winners have gone on to win Fulbright awards this year in India."
"I am looking forward to the bounty of cultural and linguistic experiences I will bring back with me," said creative writing major, Kyler Johnson, who will be studying Portuguese. Johnson, who also plans to apply for a Fulbright English Teaching Assistantship to Brazil next year, sees this experience framing his creative work, with goals of "encouraging the importance of travel, language, and sticking our necks out of our American shells from time to time."
After studying abroad in Jordan, international studies and French major, Lauren Philips, who will be studying Persian, became drawn to the idea of working in public diplomacy and is already looking forward to using her language skills to interact with Afghan refugees coming to Iowa. "I was drawn to study Persian because it is similar to Arabic and is the core language for dialects spoken in Afghanistan and Iran, among other nations. I felt that intensive Persian study would allow me to develop a more holistic perspective of the Middle East and North Africa (MENA) region," says Philips.
For biochemistry major, Grant Welk, who will be studying Hindi, language studies are a critical step toward his career in the field of medicine. "I think that it is important to understand research and healthcare not just from a singular American perspective but from other backgrounds as well," said Welk.
The CLS application can be rigorous and challenging, and awardees have expressed gratitude for the guidance they received from University of Iowa staff.
Iowa Writers' Workshop graduate Nitya Rayapati, who will be studying Urdu, highly recommends Iowa students take advantage of the services provided by International Programs and their experienced staff. 
"Reach out to the grants and fellowship office early," said Rayapati. "Everyone has a wealth of knowledge relating to these grants."
For international studies and economics major, Ryann Hubbart, who will be studying Arabic, inspiration began in the classroom, crediting her incredible instructors for keeping her energized and motivated. "Dr. Asma Ben Romdhane was the first introduction I had to Arabic and her energy and love of teaching Arabic is contagious," said Hubbart. "And Dr. Yasmine Ramadan more than anyone has given me the greatest help, encouragement, and inspiration, as well as shared so much of her time and knowledge. The people I've gotten to know at Iowa were the greatest encouragement to me."
Read more about this year's awardees: 
 
International studies and economics student Ryann Hubbart of Clinton, Iowa, will study Arabic in Amman, Jordan, this summer. 
English and creative writing student Kyler Johnson of West Des Moines, Iowa, will study Portuguese in Florianópolis, Brazil, this summer. 
International studies (international communications and Islamic & Middle Eastern studies) and French student Lauren Philips of Council Bluffs, Iowa, will study Persian this summer.
Iowa Writers' Workshop graduate student Nitya Rayapati of Austin, Texas, will study Urdu in Lucknow, India, this summer. 
French and international studies student Lauren Salloum of West Des Moines, Iowa, will study Arabic in Jordan this summer.
International Studies and Chinese major Marissa Schooley of Allerton, Iowa, will participate in an intensive Mandarin language program this summer.
Biochemistry student Grant Welk of Ames, Iowa, will study Hindu in India this summer. 
Learn how you can apply for a Critical Language Scholarship