Create. Discover. Engage. Succeed.
International Programs (IP) shapes and guides the University of Iowa's role as a leading international institution serving Iowa and the world.
We provide guidance and support for international students in the University of Iowa community, as well as scholarships and assistance for UI students who wish to study, intern, or do research abroad. We also provide funding opportunities and grant and fellowship assistance for UI faculty engaged in international research. We amplify the globally oriented accomplishments of UI students, faculty, and staff by promoting such work through various media and public engagement activities.
Vision and Strategic Themes for Campus Internationalization
To be effective citizens and to excel in their chosen careers, UI students must develop cross cultural competencies, and we must provide them opportunities to learn to function successfully and with ease in global environments. The learning and discovery guided by faculty at the University of Iowa reshape our understanding of the world, improve quality of life for many, and create economic benefits in the State of Iowa and around the globe. International relationships and partnerships, from the individual to the institutional, within and beyond our campus, add value to and expand the reach of our curricula, research, outreach, and economic development activities. We must successfully leverage these partnerships, including with our alumni living abroad. The University of Iowa must think and act as a global institution to be in a position to excel over the coming decades.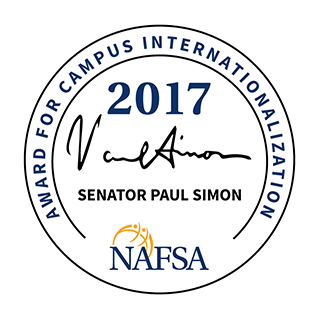 The four pillars that define our focus, along with our commitments to strengthen each pillar, are outlined below:
Student Success
Promote and support the development of international coursework that encourages an understanding of global perspectives as part of general education requirements, as well as major and minor programs of study
Recruit, retain, and increase the number of qualified international undergraduate and graduate students to promote the goals of a diverse and pluralistic campus
Develop collaborations with international partners to offer study abroad, international research, and global internship opportunities that meet the needs of today's student
Strengthen the international student and campus connection, and increase awareness of resources, events, and support services intended to enhance the success of international students
Research & Discovery
Support collaboration among academic units and external organizations to drive interdisciplinary research activity
Increase international research and scholarship

Enhance external grant and internship activity
Engagement
Strengthen relationships with state and local organizations and with the greater Iowa community
Engage alumni relationships for programming, sponsorships, recruiting

Offer support to departments who want to engage in internationally related outreach activities
Diversity, Equity, Inclusion & Collaboration
Promote cultural understanding among the UI's diverse populations
Supporting a welcoming and inclusive environment for faculty, staff, and students
Increase the percentage of underrepresented minority students participating in study abroad programs
International Programs Highlights
Watch this video to learn about some of the exciting things we've done to enrich the lives of the University of Iowa and surrounding community...
Affinity Groups
International Programs supports several academic centers, programs, and networks that support the internationalization of the UI campus.
Each year, International Programs invites experts in the field of international education to foster ongoing, campus-wide conversations.