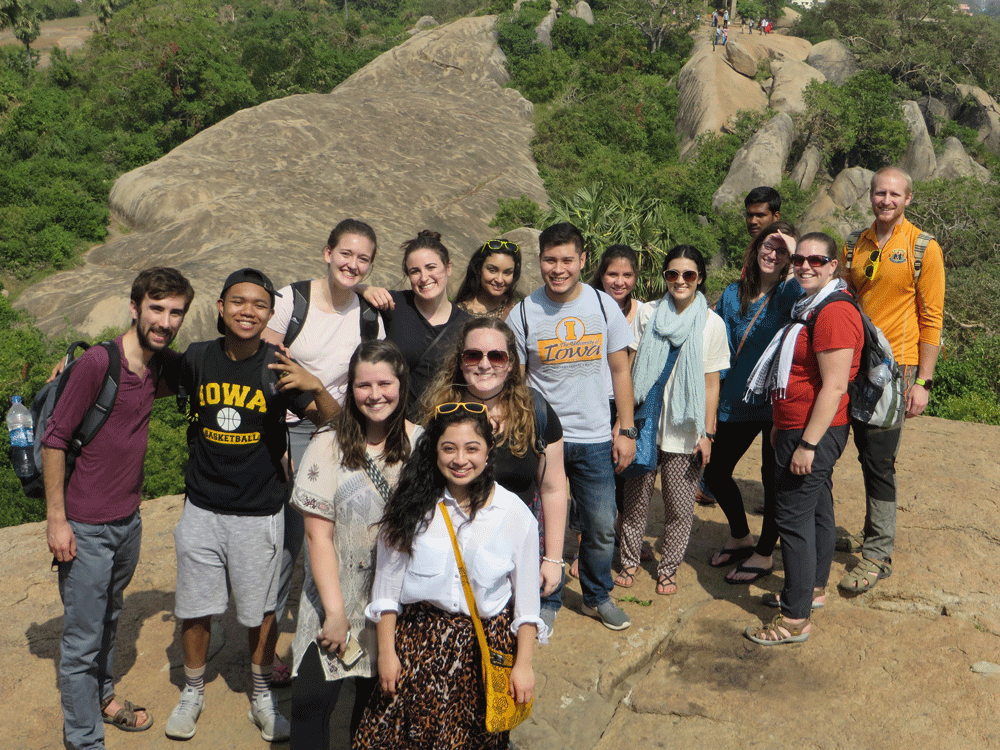 It's time to explore!
Explore one of the many courses abroad being offered by renowned University of Iowa faculty.  Earn resident credit while studying abroad!
Summer 2023 Programs
The following are just a few of the programs to be offered in summer 2023.  We will be adding more programs as they become available. 
Faculty Leader: Deb Trusty
Program Dates: May 29 - June 19, 2023
This course consists of a spring semester on-campus seminar to prepare you for travel and a three-week exploration of Athens in the summer. Each day in Greece is packed with exciting sites, museum visits, and cultural activities, bringing classroom material to life and deepening your appreciation for the rich culture of ancient Athens.
Application Deadline: February 1, 2023 
Faculty Leader: Allison Rowe
Program Dates: May 14 - 31, 2023
Learn about art, culture, and human development through an exploration of London and nearby sites, hands-on projects, visual journaling, and site-specific play. This course will be especially useful for preservice teachers, artists, and designers who want to incorporate global perspectives into their practices.
Application Deadline: January 30, 2023
Faculty Leaders: Stratis Giannakouros + Adam Brummett
Program Dates: May 21 - June 3, 2023
The Rhine River Valley is at the heart of industrial and urban sustainability efforts in Europe and provides an ideal opportunity to collaborate with industry and academic leaders in sustainable chemistry. This course will explore urbanization, biodiversity, conservation, climate change adaptation, and mitigation in a region at the forefront of advancement in these areas.
Application Deadline: February 3, 2023
Winter Break 2022/2023 Programs
Faculty Leader: Gayle Walter 
Program Dates: December 27, 2022  – January 14, 2023
The purpose of the course is to compare the health care system of the United States to the health care system in the Dominican Republic. You will be exposed to a variety of health care systems such as large private and public hospitals, local public hospitals, the public health system, rural health systems, and non-governmental organizations (NGOs). You will participate in site visits, meet with health care professionals, job shadow, and engage with members of the community to learn about their health care needs and cultural beliefs and practices that may influence health care system utilization.
Application Deadline: September 24, 2022
Faculty Leader: Andrew Casto 
Program Dates: December 29, 2022 – January 13, 2023 

Study in the historical center of Rome, Italy at a non-profit organization that focuses on ceramics, residencies, exhibitions, teaching and the arts. You will complete original artwork, attend lectures, visit relevant historic and contemporary sites, and work collaboratively with a studio team of peers and mentors.
Application Deadline: September 28, 2022
Faculty Leader: Jerry Anthony
Program Dates: December 28, 2022 - January 14, 2023
This intensive, two-week, field-based program provides you with the opportunity to learn within India's diverse cultural, socioeconomic, and geographical mosaic. Travel around Kerala and work on a number of sustainable development projects while also gaining a deeper understanding of Indian culture.  
Application Deadline: September 20, 2022
Faculty Leader: Bruce Kline and Erin Johnson
Program Dates: December 28, 2022 - January 10, 2023
This 14-day winter course in London sponsored by Tippie is designed to provide you with an international experience. You will explore business issues through class discussions, guest lecturers, and field trips, including to Bath and the Tower of London.
Application Deadline: September 6, 2022
Program Dates: January 1 - January 12, 2023
This international business course will expose you to a number of small and large international businesses. You will gain a deeper understanding of international business in Asia Pacific and the management issues confronting small-medium enterprises (SMEs) and multi-national enterprises (MNEs) in the Asia Pacific Region. 
Application Deadline: September 6, 2022
Faculty Leader: TBD
Program Dates: December 27, 2022 – January 13, 2023 

An Italy-based instructor and various industry speakers will guide you through examining the business, social, financial, and political response to disruptions like the pandemic and Brexit. Hands-on cultural events are infused throughout the class, including VR headsets for city visits, live tours with interactive guides, a hands-on cooking class, a language lesson, and more. 
Application Deadline: October 8, 2022
Faculty Leader: Motier Haskins
Program Dates: December 27, 2022  – January 14, 2023 
This three credit elective course is designed to prepare you to understand and address the complex issues associated with women's empowerment, dealing with cross-culture issues, and working with marginalized and at-risk young women. You will engage with non-profit organizations, visit local government offices, and explore the geographic and sociocultural context. You will experience and be exposed to the most respected organizations serving women throughout the Dominican Republic.
Application Deadline: September 24, 2022
Faculty Leader: Harry Stecopoulos  
Program Dates: December 26, 2022 – January 5, 2023 

This course engages the rich legacy of the ancient world to foster creativity and inspire original fiction. You will visit unforgettable ancient sites; study deities, statemen, and poets; explore contemporary Greek cities; and complete daily reading and writing assignments. Creative writing may take the form of genre fiction (e.g., fantasy, sci-fi, YA) or more traditional literary fiction.
Application Deadline: September 16, 2022
Faculty Leader: Deb Trusty
Program Dates: June 1-21, 2022
Designed specifically for Honors students and Classics majors and minors, this course will take students on a 3-week exploration of Greece. Students will reconstruct and interpret life in ancient Greece through the study of language, literature, art history, and archeology and visit key sites in Athens, Delphi, Olympia, Mycenae, Delos, Santorini, and more.
Faculty Leader: Blaine Greteman
Program Dates: June 9-23, 2022
The Irish Writing Program is a rigorous creative writing program requiring some talent, but most importantly, commitment and discipline. Its goal is to help aspiring writers become better at their craft. University of Iowa students and non-UI students are welcome to apply to the program.
Faculty Leader: Luis Martin-Estudillo
Program Dates: May 18 - June 15, 2022
Cultures of Spain is a resident-credit summer course held in Madrid, Spain that offers you an overview of the cultural landscape of Spain through an interdisciplinary approach to its history. Coursework will be reinforced with site visits throughout Madrid and the neighboring regions and cities.