The Global Student Award recognizes one undergraduate and one graduate student who are leaders deeply engaged in international education on campus or abroad. International education advances learning and scholarship; builds understanding and respect among different peoples; and enhances constructive leadership in the global community. The award was established by UI International Programs and the Division of Student Life in 2019.
The Global Student Award will be presented by the UI president during a WorldCanvass program on November 7, 2022, a prelude to International Education Week (November 14 - 19). 
International Education Week
International Education Week is a joint initiative of the U.S. Department of State and the U.S. Department of Education to celebrate the benefits of international education and exchange worldwide. 
Nomination Requirements
Eligibility requirements:
University of Iowa undergraduate or graduate student
Currently enrolled at the university and in good standing in a degree program
International student or U.S. citizen
Candidates should be students who champion international education on campus or abroad.  Important qualifying attributes include:
Demonstrated commitment to celebrating and promoting different cultures, identities, and international perspectives
Leadership in fostering collaboration and coalition-building between people and groups from international backgrounds
Openness about their personal experiences and perspectives in support of global understanding and inclusion within their community and field of study
Ability to use their own international education experiences to empower their peers to enrich their global perspectives and pursue international learning opportunities 
Nomination Process
You may nominate yourself or others for this award.
Nomination deadline: Saturday, October 1, 2022
Past Recipients
2021: Hadley Galbraith is a PhD student (French and francophone world studies) from Topeka, Kansas. Her research focuses on literature, film, and performance by artists from the Caribbean, the Indian Ocean and Sub-Saharan Africa, specifically on the memory of slavery and the impacts of colonization on relationships to the body, history and heritage amongst communities of slavery's descendants.  She has studied and worked in France multiple times, and while at Iowa has been an active member of the World Languages Graduate Organization (WLGO), and served as departmental senator for the Department of French and Italian, and on the International Committee of Graduate Student Senate.
2021: Amna Hadar is an undergraduate student (international relations and philosophy) from Omaha, Nebraska.  While at Iowa she has been involved with Middle Eastern/North African Students Association, the Walk It Out Multicultural Fashion Show, and an intern with the Iowa City Foreign Relations Council. As a senator for Undergraduate Student Government, she served on the Justice and Equity committee and focused primarily on how to secure funding for cultural student organizations and support students belonging to international and racial-minority identities. She created and currently leads the peace advocacy organization Peace by Peace. Through this organization, members sit together to learn, process, reflect, and engage with issues of state- and state-sanctioned violence around the world.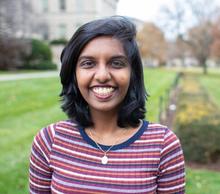 2020: Mishma Nixon is an undergraduate student from Colombo, Sri Lanka, in the Honors Program majoring in English and creative writing. Her extensive involvement on campus includes: Campus Activities Board, South Asian Student Alliance, and the International Student Advisory Board (ISAB). She received the Rhodes Dunlap Awards for a First Year and Second Year student (both for 2019 and 2020) from the Honors Program, the Scott A. Anderson Memorial Scholarship from the English department, and the Miriam Gilbert Prize for Shakespeare Studies in Spring 2020.
2020: Nicholas Stroup is a PhD candidate in educational policy and leadership studies (higher education and student affairs). His international journey began with a Stanley Award for International Research that allowed him to travel to Kosovo in 2019 and interview PhD-seekers there about their desires to pursue doctoral education. He was also able to travel to Norway in 2019 as part of Dr. Cassie Barnhardt's collaboration with the University of Oslo (UiO). While there, he worked with peers from UiO's program on comparative research about how international and domestic graduate students in Norway and the U.S. fund their higher education pursuits and experience disability services on campus.
2019: The inaugural recipient was Yu Chak "Sunny" Ho, a PhD candidate in counseling psychology. Ho, of Hong Kong, was vice chair of the International Student Advisory Board; an international student workshop facilitator; Paul Opstad and Franklin Stone International Student Award recipient; and Bridging Domestic and Global Diversity program mentor.