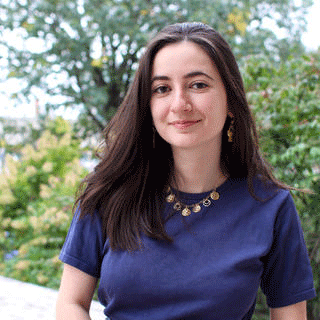 Amna Haider is a recipient of the 2021 Global Student Award, which recognizes one undergraduate and one graduate student who are leaders deeply engaged in international education on campus or abroad. Amna is an undergraduate student (international relations and philosophy) from Omaha, Nebraska. Learn more about Amna's engagement with international education below.

What experiences, organizations, or programs have you participated in that furthered your international education?
On campus and within my communities, I have both participated in and led different initiatives that furthered my understanding of our world and helped others do the same. Since my freshman year, I have been involved with Middle Eastern/North African Students Association, helping put on events like Arabian Nights to engage Iowa students with Middle Eastern/Arab culture. Each year at Iowa, I've helped put on the Walk It Out Multicultural Fashion Show; I have modeled and performed for the Middle East cultural group, served as the finance director, vice president. Now, I currently serve as the president, leading the biggest multicultural organization on campus and spotlighting students belonging to eight underrepresented cultures. Also, since my freshman year, I've loyally interned with the Iowa City Foreign Relations Council (ICFRC), in which I support and manage weekly programming/lectures that spread awareness about pertinent international issues to Iowa City community members and Iowa students. Not only has this internship given me the opportunity to learn about a nonprofit whose purpose is to advance international education in a local setting, but I get first-hand access to the events/lectures in which I get to enhance my understanding of global affairs. Just last week, I directly participated as a panelist in ICFRC's evening lecture "Generation Z and Foreign Policy." After my first year of college, I volunteered at my local refugee resettlement agency in Omaha, Nebraska, to hear the stories of refugees and migrants hailing from different, often war-torn parts of the world. I reinforced my appreciation for these international perspectives and improved my own cultural competency as I interacted with refugees and migrants through tutoring English and assisting caseworkers with activities like picking up newly-arrived refugees from the airport. As a senator for Undergraduate Student Government in my sophomore year, I served on the Justice and Equity committee for a year and focused primarily on how to secure funding for cultural student organizations and support students belonging to international and racial-minority identities. I also served as the student government representative for the dean of Students Advisory Board in which I brought in a perspective on how the dean could support marginalized students, especially during the pandemic and nationwide sociocultural-racial tensions. My freshman-year involvement with Iowa Students for Refugees inspired me to create and currently lead the peace advocacy organization Peace by Peace. Through this organization, members sit together to learn, process, reflect, and engage with issues of state- and state-sanctioned violence around the world. I have tried to organize the student body through my organization in delicately engaging with issues affecting the globe, networking, and collaborating with cultural groups and other global issue-based student organizations. Peace by Peace also established a journal highlighting a range of student work that touches on international/cross-cultural peacemaking and violence. Through Peace by Peace, I represented the University of Iowa while working with Yale, University College London, and other students around the world in pushing for foreign policy change towards the war in Yemen through the international coalition Students for Yemen. I took part in trying to mobilize Iowa students in participating with the International Day of Action for Yemen in January 2021, especially by submitting my own opinion piece on why students should participate in the Daily Iowan and by providing a Yemen conflict update for STAND, the national student-led movement to end mass atrocities. My organizing for Yemen also exposed me to a short documentary, "Hunger Ward" (2020), which shines a light on the consequences of war on the severe food insecurity and crisis in Yemen. As a member of the University Lecture Committee, I accomplished bringing in the film's Oscar-nominated director and producer, Skye Fitzgerald and UI alum Michael Scheuerman, to campus. Fitzgerald also produced two other movies related to international issues, including Lifeboat (2018), which highlights the struggle of refugees attempting to escape Libya. I executed the ULC event last month in which we screened those documentaries, followed by a moderated discussion with the filmmakers for the UI/IC community. On another note, I serve as the undergraduate representative of the UI Center for Human Rights advisory board in which I provide my insight on how UICHR can establish programming that engages students with international human rights issues. In this role, I attended a dinner in which I interacted with delegates of Kenya's Judicial Service Commission, learning about their roles and telling them a bit about Iowa. This past summer, I interned with the Enabling Peace in Iraq Center (EPIC), a Washington, D.C.-based nonprofit dedicated to researching the humanitarian and security crisis in Iraq. With my own Iraqi heritage, I was compelled to intern with this nonprofit to develop a greater understanding of my motherland and to learn how to communicate this understanding to others in Iowa. To prepare for my internship, I audited an Arabic class to practice translating in a professional setting. I am also a UI Center for Human Rights Cmiel Internship funding recipient as my internship with EPIC focused on researching humanitarian and human rights issues in Iraq. As an Honors writing fellow, I deliberately chose to fellow for classes rooted in promoting an international education. Last year, I fellowed for the "Global Migration" and "Environmental Politics in India" courses taught by Professor Khandelwal. Through my role as a fellow, especially in "Global Migration," I encouraged students to think critically about their relation to international migration patterns and history. Academically, my experiences as a multi-disciplinary student further added on to my international education. Within my international relations major, I pursued research on international conflict, humanitarian assistance, and peacemaking through the Diplomacy Lab course (in which I presented work to the U.S. Department of State) and independent study with a professor in the summer and fall of 2021. Within my philosophy major, I published and presented papers in the philosophy undergraduate journal and colloquia about the ethics of the humanitarian intervention in the 2003 Iraq War (2020) and women's navigation of autonomy and sexualized cultural practices around the world (2021). To date, I received the Political Science Department's Teri G. Rasmussen Scholarship, the Honors Program's Collegiate Rhodes Dunlap Award for Excellence in the third year, the Honors Program Fellowship Award, Phi Beta Kappa membership, and a campus nomination for the Truman Scholarship.
What is the most valuable thing that you have learned through your international education experiences?
If there is one thing that I have learned through all these experiences, it is that any aspect of international education will inform and/or build upon another aspect of this education. My time watching ICFRC programs supported my search for topics to engage with through Peace by Peace. My journey creating Peace by Peace exposed me to the network of hundreds of peace and anti-war groups worldwide, enabling my involvement with Students for Yemen and my initial encounter with the Iowa alum filmmaker Michael Scheuerman. My interactions at the refugee resettlement agency I worked at sharpened my critical competency to lead a multicultural organization of over 100 students, which further honed my skill in empowering students to speak and write about global issues that personally affect them here at Iowa. Every opportunity I've taken at Iowa to practice global mindedness has set the stage for ten more opportunities, like how my advocacy for Yemen granted me the context to successfully conduct a case study on the war in Yemen with a professor. Likewise, each experience has given me some tool to navigate another, more challenging aspect of my international education, like the way my Arabic class proved to be quite valuable as I took on the challenge of reading Iraqi news sources in Modern Standard Arabic through my EPIC internship. All my experiences are interrelated and interconnected in some way, which is incredibly satisfying because I feel that I've already learned so much about the world in the nearly four short years I've been here. To recognize this further energizes my pursuit of an international education because it seems so effortless and easy to grow into and explore its untapped areas.
If you had one message to pass on your fellow classmates about international education, what would it be?
Even in a landlocked region like Iowa, an international education is right under your fingertips. You can connect anything you learn here to what's happening across the world, without needing to physically go abroad by simply making your perspective within your discipline a globally minded one. What are scholars in other countries doing to advance your field of study? How do different societies apply what you're learning to their own cultures? It takes a few minutes in your professor's office hours to ask such questions, and they also make good starting points for research papers. I've learned that there always seems to be an outlet for these globally minded conversations at Iowa—and if you can't necessarily find one, it is surprisingly easy to establish that outlet yourself (e.g., the nascence of Peace by Peace). Furthermore, from watching ICFRC and ULC lectures, to attending cultural events like MENASA's Arabian Nights or SASA's Mock Shaadi, there is always something you can do outside the classroom to exercise global mindedness without spending long nights in the library. In the same breath, there's many opportunities within these forms of campus/community programming to try some international foods—which is quite frankly a very important part of international education as well :)!
What are your future academic or career goals?
My vast appreciation for different cultures is paired with my grief towards unnecessary state- and state-sanctioned violence occurring worldwide. War, persecution, genocide: my family in Iraq has directly witnessed the consequences of such violence. The stories they've shared and my own visits to Iraq have profoundly compelled me to serve the world by modestly contributing to global conflict resolution and human rights protection through diplomacy and holding perpetrators of violence accountable. I plan to pursue a graduate program that explores the relationship between international law, political theory, and ethics so I can learn how to make international human rights and rule of law driving forces in effective foreign policy decisions. Be it through an international nongovernmental or governmental organization, I hope to investigate and confront mass atrocities and human rights abuses, while also providing direct assistance to victims of such violence.