What is mentoring? 
Mentoring is intentionally focused on the growth and development of an individual (Mentor@Iowa).  
Overview of iPeer Mentorship Program 
The iPeer Mentorship Program pairs new international students (mentees) with returning international students (mentor). The main goals of the iPeer Mentorship Program are to provide support to new international students for their transition in the first semester and personal development, as well as to empower them to become leaders on campus.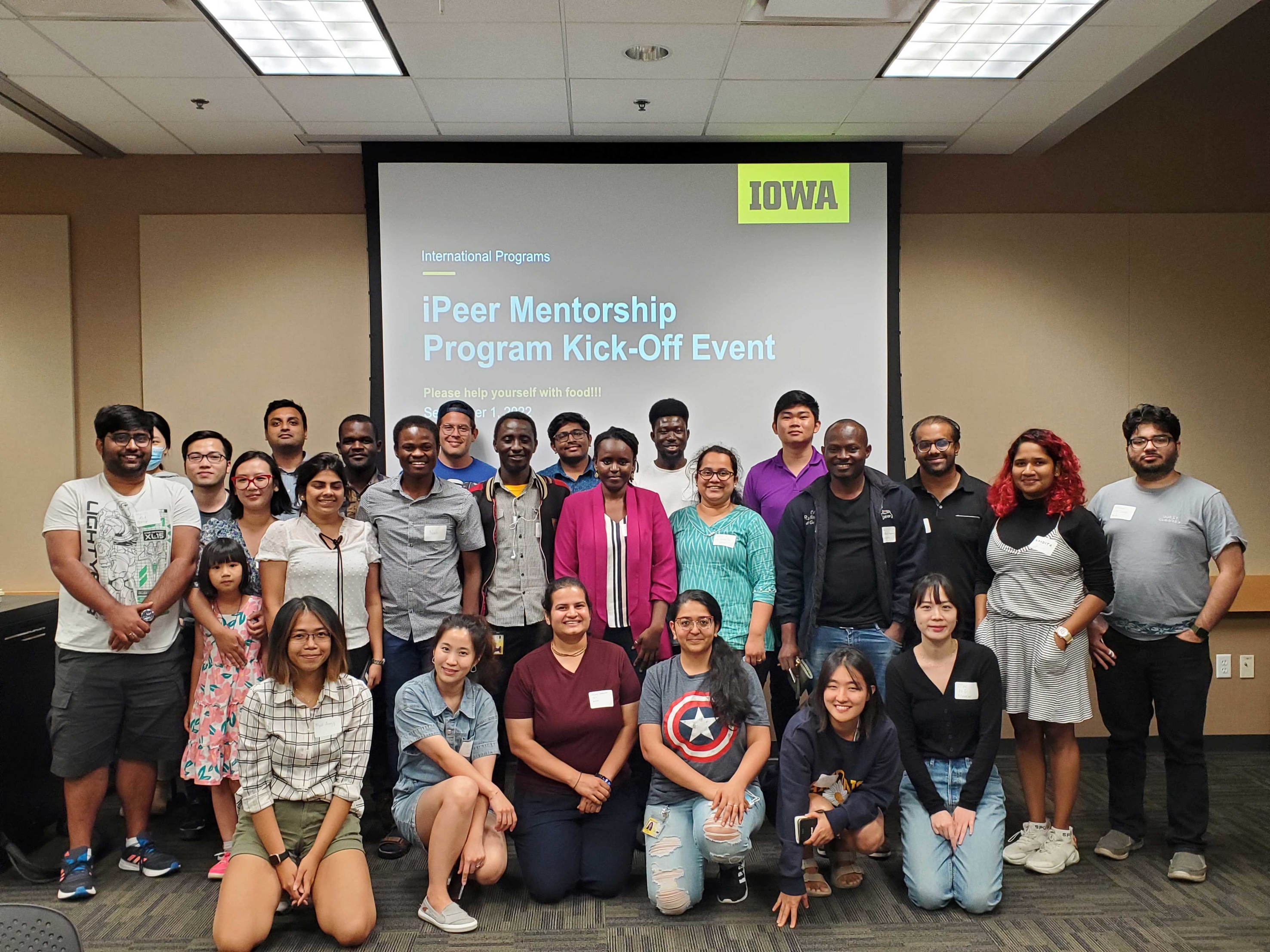 The iPeer Mentorship Program Commitments 
The program lasts for 5 months for each cycle (August – December, January – May). Mentors will be selected based on recommendation and a selection process. Before the start of the program, mentors will go through training to understand mentoring, relationship building, and familiarization of campus resources.  
Mentors and mentees are required to attend a kick-off event and a closing event and have a monthly check-in conversation during the semester. Mentors and mentees are encouraged to attend events together to explore Iowa, and to have conversations about important topics such as cultural adjustment, personal and career development, leadership, and more.   
Fall 2023 Timeline 
Mentor Training options: 
Thursday, July 27, 9 am – 11 am, Zoom 
An additional July training will be added 
Kick-off: Thursday, August 24, 5:30 - 7:30 p.m. (in person)
Semester Closing: Thursday, November 30, 5:30 - 7:00 p.m. (in person)
Expectations 
Mentor Expectations 
Actively support assigned mentees (1-2 students) with their goals during their transition process throughout the fall semester, including attending training and events, as well as conducting a monthly check-in  

Share knowledge, respect the needs and opinions of your mentees   
Empower your mentees to grow and develop skills to navigate the campus and their journey as international students at UI 
One semester commitment
Mentee Expectations 
Actively engage in conversations with your assigned mentors, including attending kick-off and closing events, as well as monthly check-in  

Be responsible for your growth and learning, and encourage the growth of others  
Be respectful of your mentor's time and boundaries  
One semester commitment 
About Mentor/Mentee Matching 
The program will try our best to match you with a mentor/mentee based on your preference and available mentors/mentees. For graduate students specifically, because many academic programs have their own mentorship/buddy programs and you will have plenty opportunities to interact with others in your own department, we find it beneficial to match you with someone outside of your direct department, so that your support network can be broadened. 
 
Program History 
In Fall 2020, a project group was formed within the International Student Advisory Board (ISAB), including two undergraduate members (Yangyi "Edward" Luo and Zephyr Xiao) and two graduate members (Jeff Lai and Alaa Albashayreh), to discuss the development of a peer mentorship program. Some of the initial goals of the program included connecting a new student with an experienced international student prior to their arrival to help answer questions related to arrival, provide informal advice on academic, career exploration, and connect the new students to campus resources and opportunities once the new students arrive on campus. Additional feedback was gathered from all 2020 – 2021 ISAB members. In Spring 2021, a pilot program was run by the project group members. By the end of Spring 2021, the mentorship program was officially named iPeer Mentorship Program, and the operation of the program was transitioned out of ISAB. 
The Importance of the iPeer Mentorship Program 
While numerous mentorship programs exist on campus, iPeer is currently the only peer-to-peer mentorship program designed specifically for international students. The shared experience from an international student mentor can help normalize transition and adjustment concerns due to language and cultural differences. Furthermore, mentors are carefully selected and trained so that they can connect their mentees to campus resources and opportunities. 
Program Name 
The mentorship program name, iPeer, was selected in spring 2021. "I" stands for "international" and "Iowa." "Peer" emphasizes the peer connection.