About
The Fulbright U.S. Student Program is designed to give recent bachelor's graduates, master's and doctoral candidates, young professionals, and artists opportunities for personal development and international experience. Projects may include English teaching assistantships, independent research, creative/artistic projects, university coursework or degree programs, training in a music conservatory or art school.
Eligibility
U.S. Citizens (no permanent residents); undergraduate juniors and seniors, graduate students, and alumni
Campus Deadline
September 1, 2023
Fulbright Applicants
All undergraduate, graduate students and alumni interested in applying:
Make an appointment with UI Fulbright Program Advisor Karen Wachsmuth.  Please visit our application process page to fill out a Preliminary Application Form required to make an appointment.
After meeting with Dr. Wachsmuth, you will be given access to the UI Fulbright ICON site, which is a comprehensive library of essential Fulbright resources for UI applicants only.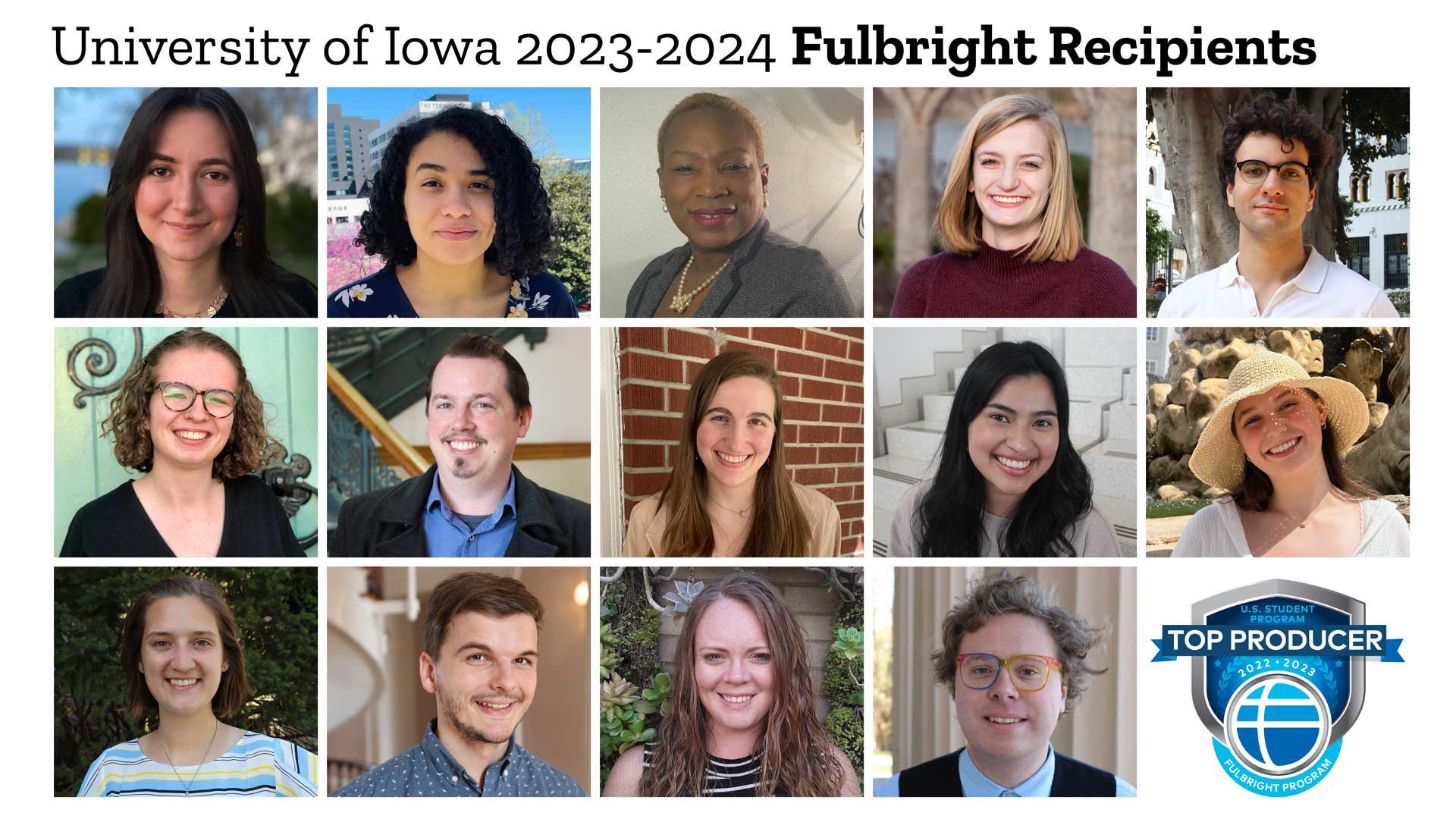 Fulbright Events
There are currently no events to display.
Types of Grants
There are two main types of grants. You must choose one program and one host country during the Fulbright competition cycle. You must apply through UI International Programs.
English Teaching Assistantship (ETA) Award
The Fulbright ETA program places grantees in schools overseas to supplement local English language instruction and to provide a native speaker presence in the classrooms. Fulbright assigns grantees to a specific city/region and age-level. ETA grantees also conduct community engagement projects or activities in addition to classroom work.
Eligibility:U.S. Citizen (no permanent residents); Bachelor's degree (or equivalent) at beginning of funding period.
Duration:Varies by country; Ca. 8-10 months.
Study/Research Grants (includes Arts Grants)
Applicants for Fulbright Study/Research grants can propose individual research projects and work with advisers at foreign universities or research institutions, apply for graduate degree programs in the host country, or propose creative/artistic projects and/or graduate research/coursework in the host country.
Eligibility: U.S. Citizen (no permanent residents); Bachelor's degree (or equivalent) at beginning of funding period.
Duration: Varies by country; around 10 months.
"The writing process is your friend, not a chore... Don't be afraid to write any and all possible ideas out with every draft--the UI Fulbright team will help you find the ones that stick."
Other Resources
Presentation with General Information on Fulbright
Start with this basic Fulbright presentation. 
Contacting the UI Fulbright Program Advisor
For more information about applying for a Fulbright, please make an appointment with Dr. Karen Wachsmuth by completing and returning the Preliminary Application Form to ip-grants@uiowa.edu. After meeting with Karen, Fulbright applications will be invited to join the Fulbright ICON site to access further application and writing resources.
Incentive Funding for Graduate Students
The Graduate College offers a stipend incentive for currently enrolled UI graduate students to apply for approved nationally competitive grants and fellowships after receiving feedback from faculty and fellowships advisors. 
UI Fulbright Faculty Mentors
UI Fulbright faculty mentors are available to help undergraduate and graduate students with their Fulbright applications.  They are available to assist applicants with preliminary ideas, connect them with contacts both here and abroad, and read drafts of essays.  Download this faculty mentors document for more information.
Fulbright Video Tutorials
See these Fulbright video tutorials for more information.
Specifics for Creative and Performing Arts Grants
Required Supplementary Materials for Arts Applicants
(Please see the above link for the list of creative fields available)
Applications in the Creative and Performing Arts require the submission of supplementary materials (work samples) in support of the written application. Portfolios must be uploaded into the application by the campus deadline.
Applicants to Germany are required to submit additional materials. The specifications can be found on the Additional Materials For Music And Arts For Germany page.
Fulbright News
Fourteen University of Iowa students and alumni were chosen from about 10,000 Fulbright Award applicants nationwide to serve as representatives of the U.S. Department of State in 11 countries during the 2023-24 academic year. The students will teach English abroad, serve in local community organizations, enroll in graduate studies at cutting-edge universities, and conduct research.
Rebecca Lara, who will receive a BA in English and creative writing from the University of Iowa in 2023, is the winner of a Fulbright English Teaching Assistantship Award to Spain for 2023-24. 
Sam Boucher, a PhD candidate in history at the University of Iowa, is the winner of a Fulbright Study/Research grant to Paraguay for 2023-24.