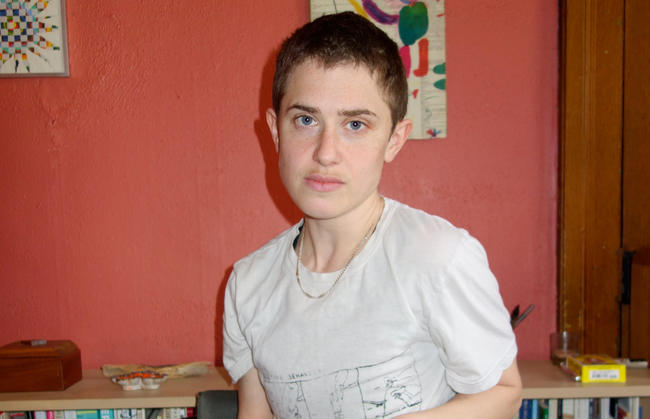 Sallie Fullerton, who received an MFA in poetry from the University of Iowa's Writers' Workshop in 2021, is the winner of a Fulbright Study/Research grant in Creative Writing to Canada for 2022-23.
Sallie Fullerton
Hometown: Philadelphia, PA
Award: 2022-23 Fulbright Study/Research grant in Creative Writing to Canada
Degree: MFA, poetry
Could you give us a brief synopsis of what you'll be doing with your Fulbright?   
I'll be researching and writing a documentary poetry book on the shifting lesbian social scene in Montréal from 1950 to the present day. I'll be collecting materials from the 'archives lesbiennes du Québec' as well as conducting around 20-25 oral histories for use in a book that blends individual and collective stories through the incorporation of historical materials with poetry. The hope is to provide a more intimate view into these stories that have traditionally been presented in academic publications.
What drew you to this field of study? 
Gay and Lesbian bars have been a pretty formative fixture in my life. Having come out at a relatively young age, they were important parts of situating myself as a queer person in the larger social world. Anyone who frequents gay bars knows that they are a dying breed.  The closure of many LGBTQ+ spaces risks erasing not only the possibility for a certain kind of queer community building but also the past efforts of those who worked to create those spaces. I wanted to preserve both the spaces and those who patronized, worked at, and ran lesbian bars in a North American city known for its queerness that is not New York or San Francisco. Because I spoke French and lived on the East Coast before coming to Iowa, I spent a fair amount of time in Montréal and found comfort in both the anonymity of being queer in another country, as well as the existence of an open and established queer community there. My personal experiences in queer-Montréal were a direct inspiration for this project. 
How do you envision this will influence your life/future career? 
I'd really love to continue writing poetry that incorporates an archival practice. Before starting at the University of Iowa's Writers' Workshop, I had been seriously considering a career in archives. This project will provide me with the resources to more fully investigate this kind of work in conjunction with my poetry practice. I also hope to publish a book that preserves and elevates these histories in a way that feels true to those who lived them.  
What advice do you have for future students interested in applying for a Fulbright?
The drafting process can be intense and time-consuming, so it's important to have a project you actually care about and feel connected to. It will make for a more pleasant application process and a stronger proposal overall. Also, start early! 
Are there individuals you'd like to thank for their investment in this process? 
Yes! My recommenders Suzanna Tamminen, Danielle Vogel, and Elizabeth Willis were a huge part in making this happen. Both their letters on behalf of this project and the years of encouragement I've received from them have made this possible. All three of them had a role in shaping the eventual form of this project. I really cannot thank them enough for this and so much more. Also, Karen Wachsmuth and the University of Iowa Fulbright team were unbelievably helpful. I had no idea how to write a grant of this size and owe so much of my success to their help and guidance.
Explore the many funding opportunities open to UI students and alumni
Students are encouraged to begin their funding searches and applications at least six months to one year in advance.  Schedule an advising appointment with Karen Wachsmuth to discuss your interest in an international fellowship or begin an application (as a UI undergraduate student, graduate student, or alumna/us).