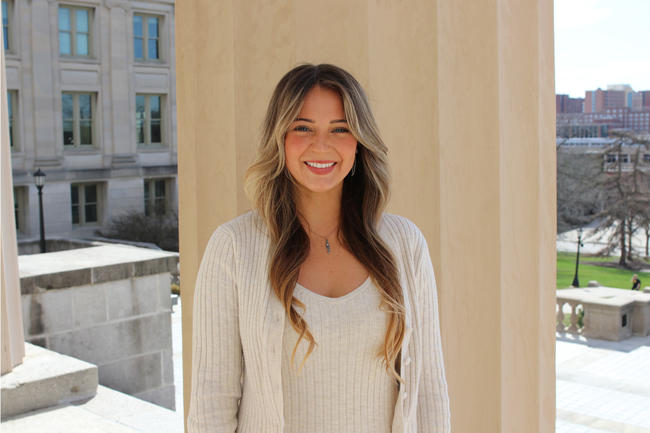 Tessa Reed, who received a BA in global health studies and Spanish from the University of Iowa in December 2021, is the winner of a Fulbright English Teaching Assistantship Award to Spain for 2022-23.
Tessa Reed
Hometown: Spirit Lake, Iowa
Award: 2022-2023 Fulbright English Teaching Assistantship Award to Spain 
Degree: BA, global health studies and Spanish 
Could you give me a brief synopsis of what you'll be doing with your Fulbright?   
I will teach English in La Rioja, Spain, for the 2022-2023 academic year. Depending on my placement, I will assist teaching staff at early childhood, elementary, secondary, or vocational training schools. In addition, I will establish a program that integrates refugees into the community for my supplementary project. This program will include foreign language instruction, housing assistance, employment assistance, and other resources they may need for successful integration, such as food and medical assistance programs. I intend to explore local culture through flamenco dance classes and share my American dance experience in modern dance. In addition, I will learn how the cultural, historical, and economic factors of wine shape the Spanish community in La Rioja—a premier wine region—and participate in local harvest festivals and traditions, such as the San Mateo Festival in Logroño and foot-crushing of the grapes.  
What drew you to this field of study? 
Through an independent study I developed in high school, I came to work at Centro Esperanza Infantil in Mexico, an organization that minimizes the barriers to accessible education, becoming interested in the social determinants that influence health, including education, social identity, health care access, and physical environment.  I also enjoyed volunteering with IC Compassion in Iowa City, a refugee assistance program, where I worked with refugees in ESL language instruction, transportation assistance, and US civic test preparation. The complex relationship between the circumstances of individuals and health inequity led me to pursue a degree in global health studies.  
As I have grown up in a predominantly monolingual town, foreign language has become a tool to expand my worldview. My fascination with the Spanish language, including the culture and history of the countries that speak it, led me to pursue a degree in Spanish.  Additionally, my study abroad opportunity in San Sebastián, Spain, in 2020 reinforced these inspirations through my unforgettable conversations with my host family and friends who I am still in contact with today. 
How do you envision this will influence your life/future career? 
Through my Fulbright scholarship, I intend to explore the intersections of Spanish tradition set by the people of La Rioja and the modern socio-economic influences evident in schools and refugee communities. In addition, this experience will teach me successful cross-cultural collaboration and project management strategies. I will apply these skills through a career in social entrepreneurship that reduces health disparities by addressing the socio-economic facets.  
What advice do you have for future students interested in applying for a Fulbright? 
To all first-generation students interested in applying for Fulbright, anxious feelings of unfamiliarity and imposter syndrome are valid and may arise. However, do not let these feelings discourage you. Instead, use your experience of navigating uncharted territory to your advantage and remain resilient. You are deserving. Do not let anyone or yourself tell you otherwise. 
Are there individuals you'd like to thank for their investment in this process?
Thank you, Dr. Karen Wachsmuth, for your immense support and high level of dedication throughout this entire process. Thank you, Dr. Kathleen Newman, Hannah Gulick, Marie Hoppe, Sarah Lowen, and Ari Natarina, for reviewing my essays. Thank you, Brett Cloyd, for providing me with excellent resources for my application. Thank you, Dr. Judith Liskin-Gasparro, for helping me with my language evaluation. 
Thank you to my mentor, Jane Shuttleworth, for your recommendation and for inspiring me with each interaction we have. Thank you, Dr. Karmen Berger, for your recommendation and for giving me the freedom and encouragement to explore my ideas. Thank you, Dr. Becky Gonzalez, for your recommendation, support, and endless motivation. 
Thank you to the late Peg Bowden and the late Cliff Hinderman, whose legacies live on through the experiences they shared with me, leading me to this opportunity. 
Finally, I would like to thank my parents. Thank you for always supporting me, guiding me, and pushing me to do my best in life. There will never be enough words to express my love and gratitude for you both.
Explore the many funding opportunities open to UI students and alumni
Students are encouraged to begin their funding searches and applications at least six months to one year in advance.  Schedule an advising appointment with Karen Wachsmuth to discuss your interest in an international fellowship or begin an application (as a UI undergraduate student, graduate student, or alumna/us).