Wednesday, April 13, 2022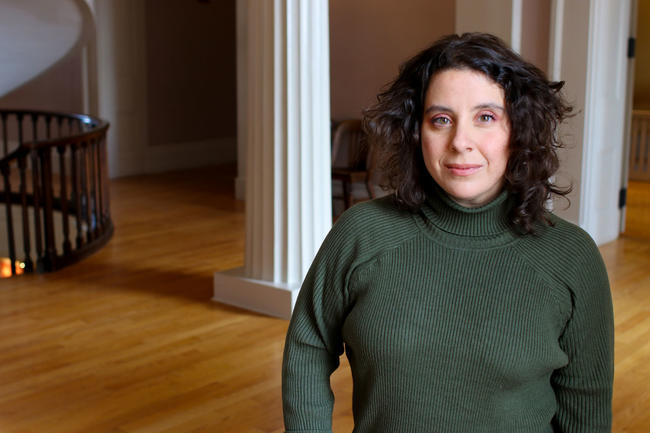 Brittany Borghi
Hometown: Zelienople, Pennsylvania
Award: 2022-23 Fulbright Study/Research grant in Creative Writing to Italy
Degree: MFA, nonfiction writing, 2018 
Could you give me a brief synopsis of what you'll be doing with your Fulbright?   
I am going to villages of my Italian ancestors to write about identity, belonging, loss, and community.   
What drew you to this field of study? 
My last name, Borghi, literally means "villages" in Italian, but often refers to these small, beautiful places that date back to the medieval era and before. I grew up in a big extended family full of Italian American culture, personal stories, and folklore--but it was all contained within the American experience. During the pandemic, I experienced an inversion of my identity around myself as an economically productive object, as so many of us did, and I wanted to be able to see life from a different point of view. I wanted to go to these villages that are almost nonexistent in my life, but which have had a tremendous amount of control over the course of my life. The villages of my ancestors are places that have experienced dramatic population loss, and which often rely on tourism and struggle with migration. I feel a sense of kinship with this kind of place, and I wanted to know what I would feel if I lived there and got to know the people who live there. What does it mean to actually belong in and to these places, to a place? How does it feel? Who belongs and who doesn't? There are a lot of questions packed into all of this, and I'm excited to try to wade through them.
How do you envision this will influence your life/future career? 
It will be tremendously meaningful to have the time and space to observe, think, and write over the next academic year as my primary focus. That is a meaningful privilege. I am excited by what it will mean for my mind and my writing to do a lot of these processes in Italian rather than English. I am enthusiastic about the opportunity to see what happens. 
"It will be tremendously meaningful to have the time and space to observe, think, and write over the next academic year as my primary focus."
What advice do you have for future students interested in applying for a Fulbright? 
If you're interested, do it. Our university is incredible at placing people in Fulbright fellowships for a reason. Go to the seminars, pay attention, and get to work as early as you can. Apply more than once. I did. Above all that, give yourself permission to put yourself at the center of your application. Any project you devise, any idea you come up with, any chance you take here grows out of and is rooted in you--your unique set of skills, knowledge, and experiences. When you want to create a compelling application for something like a Fulbright, remember that you are compelling, in and of yourself. Let yourself bring that part of yourself forward. You have the capacity to do it. 
Are there individuals you'd like to thank for their investment in this process?   
Yes! Colin Kostelecky, Inara Verzemnieks, Kerry Howley, Cinzia Blum, Karen Wachsmuth, Carol Severino, Kristy Nabhan-Warren, Steve Duck, my Milanese conversation partner Nick Martino, and all my friends and family for supporting me during this long process. 
Explore the many funding opportunities open to UI students and alumni
Students are encouraged to begin their funding searches and applications at least six months to one year in advance.  Schedule an advising appointment with Karen Wachsmuth to discuss your interest in an international fellowship or begin an application (as a UI undergraduate student, graduate student, or alumna/us).