Living in another country is definitely an experience that plummets you into the unknown. Everything you're used to is completely turned upside down. It's a scary, yet freeing feeling that creates independence at a whole new level. Nevertheless, adapting can sometimes be overwhelming when everywhere you look is unfamiliar. Here is my take on a few of the biggest challenges of living abroad from my experiences this summer:
Getting Around
Trying to figure out your way around a brand new city is always hard no matter where you are. Remember when you moved to college and you were convinced you would never figure out where all the buildings and streets were? It's kind of the same feeling except for the fact that you are across the world (no pressure or anything). Cape Town is a hugely urban city with over 3 million residents calling it home so learning where everything is would be an impossible task considering people who have lived here their whole life probably don't even know that much. Mastering the whereabouts of the area around our apartment, and the popular streets we are always on has come easily though. Though it's taken long enough, I think I have also finally mastered the bus system after taking it to work everyday (I guess some things take longer than others right?).
My advice for people studying abroad facing this same problem is just to walk around! Explore the wonderful, exciting city you are living in! You will never get the lay of the land by taking taxis everywhere and your experience is bound to be super touristy if you do that as well. Do as the locals do and don't be so terrified of getting lost that you're afraid to explore because some of the best things come from taking wrong turns!
Language
A definite challenge of almost every place is the language barrier. Even here is Cape Town where English is spoken mostly everywhere it has been tough. I cannot count how many times I have to have my coworkers re-pronounce words or restate phrases in a way that makes sense to me. I finally accepted the fact that faking a British or South African accent may be the only way to be understood. Coming from home where speaking to pretty much everyone is completely stress-free, this is definitely a challenge. It is a weird feeling to feel like the outsider and have the tables turned on what you're used to. For me, it has given me more of an appreciation for people who must overcome that problem on the daily in the States. The only advice I can give is to possibly practice up on the language spoken in that country before you go. Chances are that you will learn it quickly once submersed in it in daily life as well.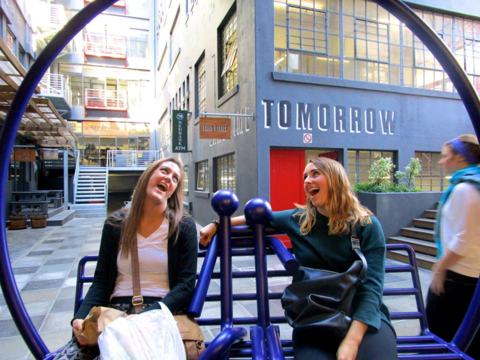 Disconnected
One bittersweet challenge of living abroad is the inevitable possibility of being a lot more disconnected from the Internet and your phone. It is hard because that means being even farther away from your family and friends you would like to talk to, but it also means not being attached to your phone and actually going out and living! Though I could buy a sim card to put in my iPhone so I could use it here, I decided to go with the cheaper option and just use an old (we are talking first cell phones ever made old) loadable phone simply for getting ahold of my friends and contacts here in South Africa. Phones are worth a lot here, so walking around with an iPhone may not attract the best kind of attention, but these plastic wonders have basically a zero percent chance of getting stolen! Someone mugged an intern here once and actually threw the crappy phone back at him (hahahahaha) so I feel a lot better about this option.
There are wifi cafes all over here so when I want to talk to my family or friends and see what is going on back home I usually just head there to catch up with some coffee. I thoroughly enjoy being less dependent on my phone and it has definitely given me a better experience. I would not want to look back on my time here and realize I was glued to my phone! My advice to those struggling with this problem is to utilize the wifi cafes. They are all over and serve up some great coffee and treats as well. By doing that you are not checking Facebook, Twitter and Instagram every second like you would at home (don't lie we all do it). By designating a time during the day to get on the Internet, you can use the rest of the day to enjoy your time abroad!
Though packing up and moving to another country can seem like a daunting death wish to many people, it is actually a huge learning experience that teaches you so much about yourself and the world. It shows you how small you are and how insanely huge the world is. Without obstacles we cannot change and grow so even though challenges are inevitable, they are completely worth it in the end!
*Brooke Axness, a native of Fort Dodge, IA, is a sophomore majoring in biology and global health studies at the University of Iowa. This summer she is interning abroad at a hospital in Cape Town, South Africa on the Connect-123 program.