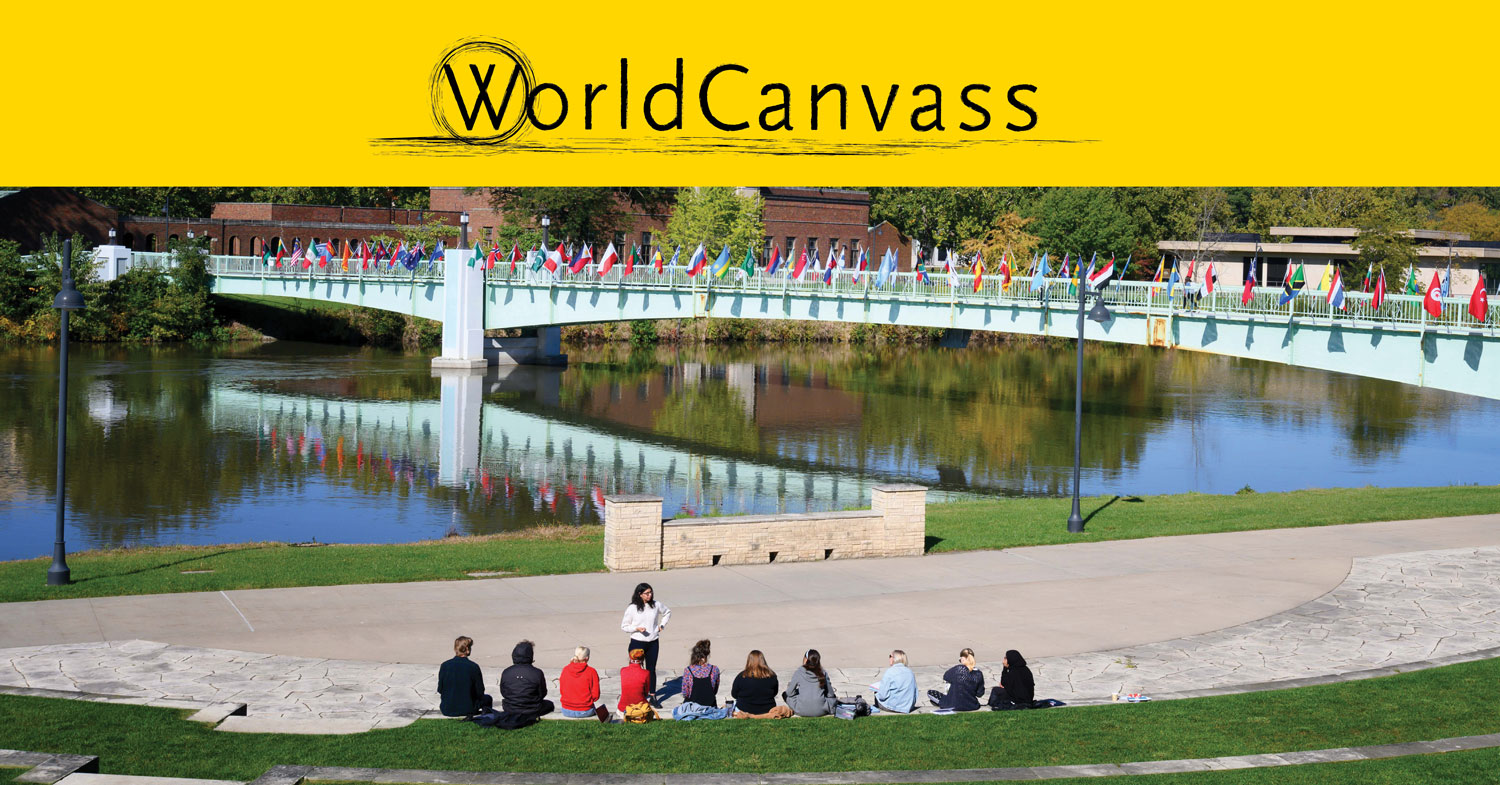 November 15, 2021 | 10:00-11:30 a.m.
2021 recipients of the UI's International Impact Award and Global Student Award were honored on the November 15 WorldCanvass program as a kick-off to the UI's celebration of International Education Week (Nov. 15-19). UI President Barbara J. Wilson and Associate Provost and Dean of International Programs Russell Ganim presented the awards at the beginning of WorldCanvass, followed by interviews conducted by WorldCanvass host Joan Kjaer. The live WorldCanvass conversation took place from 10-11:30 a.m. on November 15 and was streamed through Zoom and Facebook Live at 'University of Iowa International Programs.' The program was recorded and posted to YouTube, Apple Podcasts, and the Public Radio Exchange.
Location: Virtual
Free and open to the public.
International Impact Awards
The International Impact Award recognizes distinguished alumni and other individuals with significant ties to the UI who have made important contributions internationally or, in the case of international alumni, abroad in their home countries.
Dr. Martín López-Vega is a noted poet, author, and essayist whose published works in Spanish and Asturian have been widely praised. He is one of a handful of artists and activists who have fought successfully to increase legal recognition for the Asturian language and the rich culture associated with it. López-Vega received his PhD at the University of Iowa and has served as both general director for culture and heritage of the Principado de Asturias and executive director of the Cervantes Institute, Spain's government agency charged with promoting the varied languages and cultures of Spain and encouraging cultural, intellectual, and artistic exchanges between Spain and the rest of the world. López-Vega will be joined in conversation by Professor Luis Martín-Estudillo of the UI Department of Spanish and Portuguese.
Dr. Nina Jovanovic is the leading eye researcher in Bosnia and Herzegovina. Jovanovic currently runs the oculoplastic surgery section in the Department of Ophthalmology at Canton Hospital in Zenica, Bosnia and Herzegovina. Upon completion of her Master of Public Health degree at the UI, Jovanovic returned to Bosnia and Herzegovina where she became the first certified oculoplastic surgeon, introducing the techniques of oculoplastic surgery to Bosnia and Herzegovina; introduced the first eye injury registries to advance knowledge about eye injuries, their prevention, and treatment; and was the first physician to advocate for eye protection for workers. Jovanovic has embraced opportunities to promote public health and population-level prevention through her medical practice and she maintains a strong relationship with the University of Iowa, sharing her experience and expertise with UI students and faculty during nearly annual visits to campus and welcoming UI students for global clinical experiences in Bosnia and Herzegovina. Joining Jovanovic for the WorldCanvass conversation will be Professor Corinne Peek-Asa of the UI College of Public Health.
Global Student Awards
The Global Student Awards recognize one undergraduate and one graduate student who are leaders deeply engaged in international education on campus or abroad. The award was established by UI International Programs and the Division of Student Life in 2019. 2021 Global Student Awardees are Amna Haider, an undergraduate student (international relations and philosophy) from Omaha, Nebraska, and Hadley Galbraith, a PhD student (French and francophone world studies) from Topeka, Kansas. Learn more about Hadley Galbraith and Amna Haider.
Program Details
Segment 1: International Impact Award and Global Student Award presentations
Barbara Wilson - president, University of Iowa
Russell Ganim—associate provost and dean, UI International Programs
Segment 2: Martín López-Vega
Martín López-Vega—International Impact Award winner
Luis Martín-Estudillo —professor, Department of Spanish and Portuguese
Segment 3: Nina Jovanovic
Nina Jovanovic – International Impact Award winner
Corinne Peek-Asa —professor, associate dean for research, College of Public Health
Segment 4: Global Student Awards
Amna Haider—Global Student winner
Hadley Galbraith—Global Student winner
Brian Lai—associate professor, chair, Department of Political Science
Anny Curtius—associate professor, director of graduate studies, Department of French and Italian
WorldCanvass programs are recorded as audio podcasts and are available on Apple Podcasts, the Public Radio Exchange (PRX), and the WorldCanvass website. Videos are available on YouTube. WorldCanvass is produced by University of Iowa International Programs.
Individuals with disabilities are encouraged to attend all University of Iowa-sponsored events. If you are a person with a disability who requires a reasonable accommodation in order to participate in this program, please contact Amy Green in advance at amy-green-1@uiowa.edu or 319-335-1433.