Funded in part by the Stanley-UI Foundation Support Organization
Purpose
International Programs International Travel Awards contribute to internationalization at the University of Iowa by funding the international scholarship and engagement of UI faculty. Through the generous support of the Stanley-UI Foundation Support Organization, International Travel Awards support international travel for research, creative activity, and active conference participation or other collaborative activity.
Deadlines
The last day of each month. 
Eligibility
University of Iowa tenured, tenure-track, clinical, and research faculty as well as professional and scientific staff members for whom research and scholarship are assigned as one of their primary job responsibilities and have at least a 50% university appointment.  Visiting faculty are not eligible.
Applications must involve international travel.
Applications must be received prior to an applicant's planned travel dates.
Applicants are required to seek additional financial support from their departments and colleges and to indicate the level, source, and status of this funding clearly on the application. No application will be considered without information concerning other UI funding sought or awarded. Applicants are also encouraged to seek funds from sources external to the university.
Attendance at conferences, exhibitions, concerts, or other events without direct and active involvement will normally not warrant funding.
Only one application may be submitted per funding cycle. Incomplete or late applications will not be considered but may be reconsidered in a subsequent month, assuming all other eligibility criteria (above) are met.
Preference will be given to applicants who have not recently received an International Travel Award.
Terms of Award
International Travel Awards will typically range from $1,000 to $1,200 (although higher or lower amounts may be awarded in some instances).
The award does not allow funding of faculty and graduate assistant salaries.
Normally International Programs notifies applicants of awards after the first week of the month following that in which the application is received (e.g., for applications received by January 31, notifications would be made by mid-February).
Funds may be used only for the destination, purpose, and dates that appear in the award application.
Applications must be received prior to date of departure.
ProTrav trip requests need to be submitted at least 30 days prior to departure.  Travel Expense Vouchers must be fully disbursed within 120 days following the date of return travel per IRS regulations. 
Evaluation Criteria and Selection Process
Proposals for the International Programs International Travel Awards are reviewed considering the following criteria:
Highest priority will be given to applicants seeking support for active involvement and meaningful participation in research projects or creative activities involving international topics. Examples include collaborative work with foreign colleagues in venues outside the U.S., or presentations at internationally based conferences, exhibitions, and performances.
Attendance at conferences without active participation will normally not warrant funding
In an effort to provide resources and opportunities leading to tenure, junior faculty may receive higher levels of funding than other applicants.
To reward service to International Programs faculty who are actively involved in our programs and curriculum may receive higher levels of funding.
Application Process
Submit the online application no later than midnight on the last day of the month.
Please note:
You cannot save this application or fill it out in multiple sessions. Therefore, it is recommended you prepare your responses before using the application form.
Once the application is submitted, you may not edit it.
Contact Information
For questions regarding International Travel Awards please contact:
Mary Paterson
Administrative Services Manager
319-335-1441
mary-paterson@uiowa.edu
Featured Award Recipients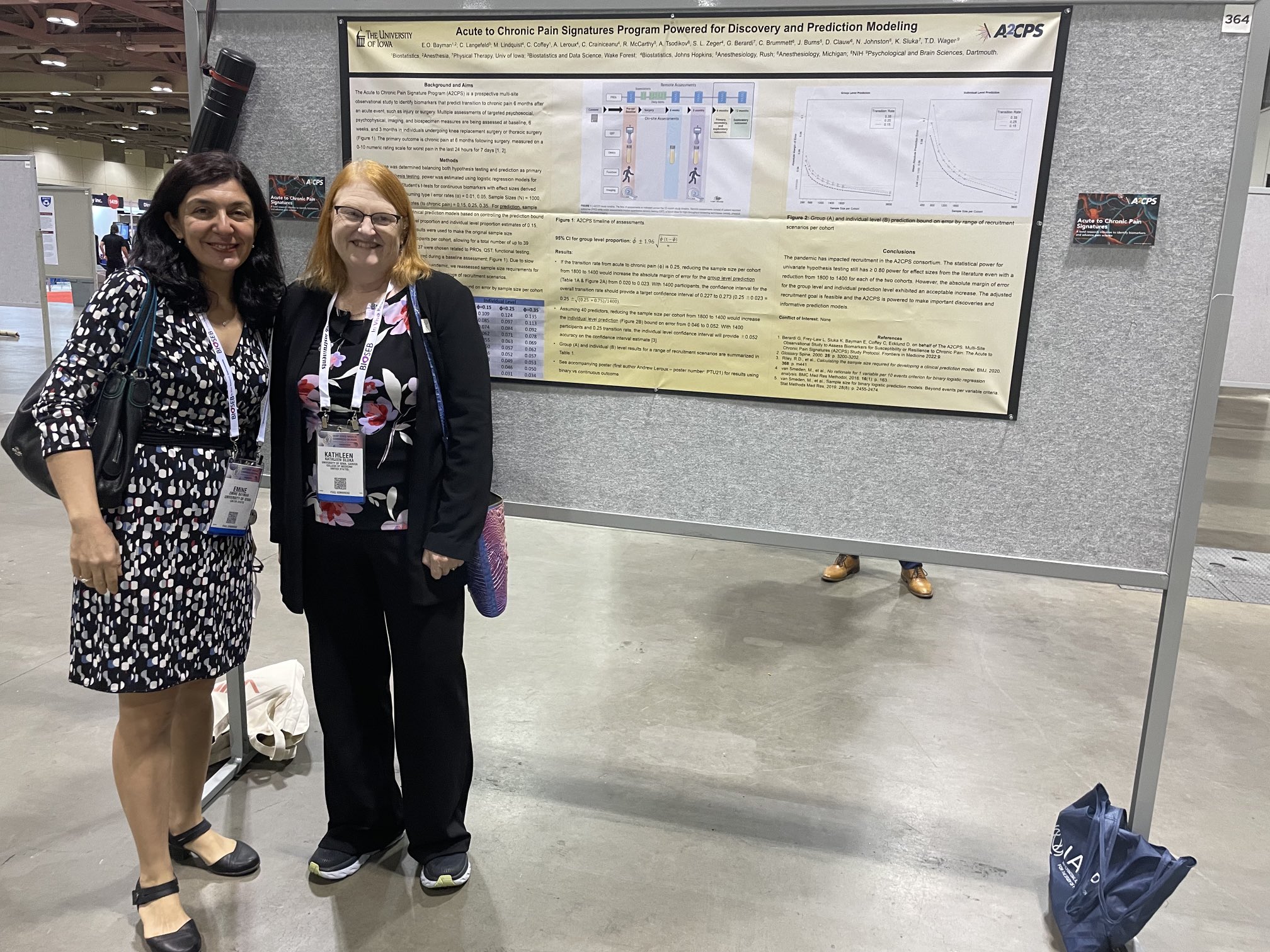 Dr. Emine Bayman, associate professor of biostatistics and deputy director of the Clinical Trials Statistical and Data Management Center, received an International Travel Award to present at the World Congress of Pain in Toronto, Canada. 
"Along with our collaborators from the Physical Therapy and Rehabilitation Sciences Department, the Clinical Trials Statistical and Data Management Center serves as the Clinical Coordinating Center for the Acute to Chronic Pain Signatures (A2CPS) network. I presented our ongoing research on A2CPS at the International Association for the Study of Pain World Congress. Even though A2CPS Consortium has been going for more than two years, I personally met with some of the investigators for the very first time in person, thanks to the travel grant."

- Emine Bayman, recipient of an International Travel Award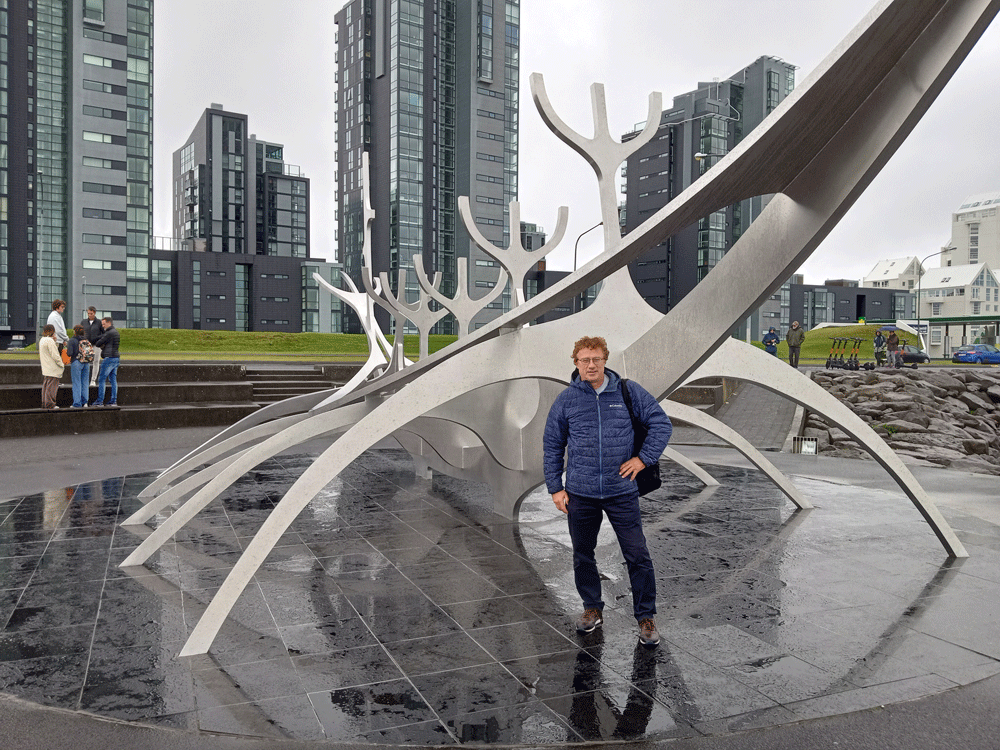 Laurent Jay, professor and director of the Graduate Program in Applied Mathematics and Computational Sciences, received an International Travel Award to attend the 11th Conference on Parallel-in-Time Integration in France and the International Conference on Scientific Computation and Differential Equations in Iceland.
"Being up-to-date with current trends in research is essential to stay active in research. Attending conferences in person is essential in that respect. Thank you again very much for your funding. My current students will indirectly benefit from me attending conferences since I am now aware of certain new results which may be useful in their research work."

- Laurent Jay, recipient of an International Travel Award