Congratulations on being nominated to attend the University of Iowa as an exchange student! On these pages you will find everything you need to plan for your journey to Iowa. This site will explain how to proceed through the admissions process, apply for housing, obtain your immigration document and visa, and arrange your travel to Iowa City as well as other important information you need to know.
During this process please email Assistant Director Brandon Paulson if you have any questions or problems. Brandon serves as the primary contact for incoming exchange students.
This information is only for students participating on official University of Iowa exchange programs.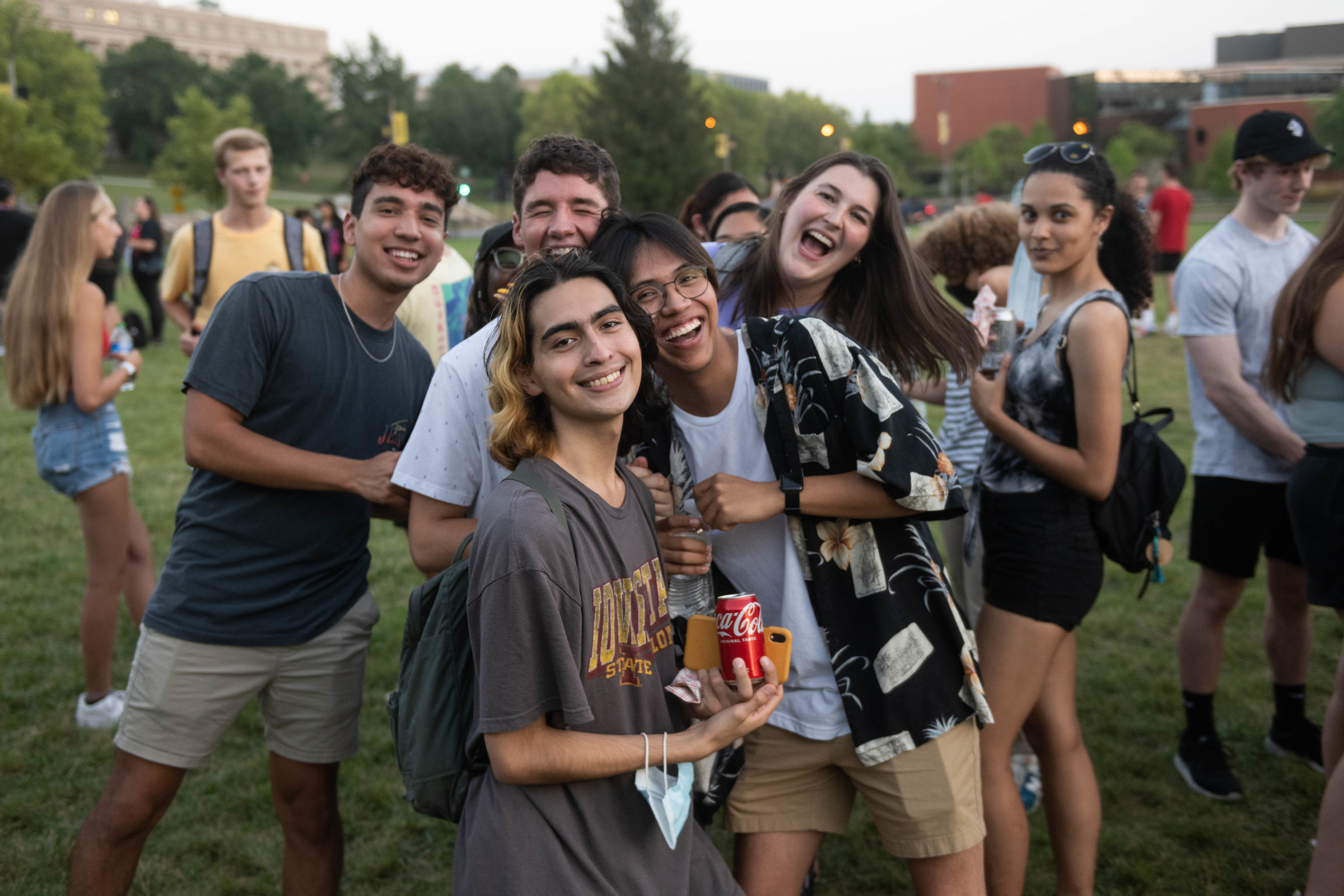 Now that you have been nominated, your first step is to formally apply to be admitted to the University of Iowa. This entire process is online, so we do not require or want you to mail us any paper documents.
Be sure that you use only the application for Nondegree Students: https://admissions.uiowa.edu/future-students/nondegree-students
When asked what immigration status you intend to hold, enter "J-1 Exchange Visitor"
Under section "B. Admission Information"

In the section asking which university college you wish to be admitted to, please choose the college matching the majority of coursework you hope to take. Ex. those who are engineering or business majors at home should check "engineering" or "business," while those who wish to take more general education, humanities, social sciences, or general science courses should choose "liberal arts and sciences." Please note that the Computer Science and Business Analytics programs do not currently accept exchange students.
When asked if you will be part of an official UI exchange program indicate "YES" and select the name of your home university to indicate which program (example: ISEP, Dortmund, Strathclyde, Meiji, etc.). This will ensure you are correctly coded as an exchange student and not charged the application fee.
For "I plan to take courses" please select "On-Campus."

English Proficiency – Students whose primary/native language is not English (i.e. the language you grew up speaking the majority of the time in your home) and who do not submit a TOEFL test score of at least 100 will be required to take the on-campus English Proficiency Exam during orientation week. Results of the exam may require a student to enroll in one or more supplemental English as a Second Language courses in addition to regular subject classes. The cost of the English Proficiency Exam is not covered by the exchange agreement and must be paid by the student (approximately $120).
In Section C: Educational Information, if your high school is not listed, please go through the process to enter it three times. Then the system will accept it and you can continue with the rest of the application.
Once your completed application for admission is submitted, you will initially be coded as "academically eligible" while we wait for you to submit the first group of e-forms in our iHawk Pre-Arrival Checklist. This is when you will upload documents required for your admission, including your transcript, passport, financial documentation, English proficiency documentation (if required), your course request list, and arrange the eShipGlobal payment to have your immigration document shipped (please DO NOT submit the eShipGlobal e-form until you are prepared to actually pay it). Please understand that this is a manual process and may take up to two weeks for our office to complete once you have submitted all required documentation.
You will be emailed your HawkID and password, which you will use to access university databases such as MyUI (the student records system) and iHawk (the international student data system). Activate your HawkID right away following the instructions sent to you.
Note that you will receive two separate forms of University of Iowa identifiers, which can be required for different purposes.
HawkID – a variation of your name and sometimes a number, such as "seedorff," "rzhang1" or "ldsmith"
University ID Number – an 8-digit number assigned to you upon admission
Once you have your HawkID and password, you will be able to log in to the Pre-Arrival Checklist in the iHawk system. You will be emailed instructions on logging in to the Checklist once your initial admission review is completed. It may take a few days before you receive this information. This checklist is required, and is part of the process that leads to you obtaining your full admission and immigration document.
This pre-arrival checklist is the start of a series of e-forms that will permit you to submit required documents to the University of Iowa and will give you information about arranging housing, selecting courses, traveling to Iowa City, orientation, and several other important pieces of information.
This first group of e-forms will cover the following. These e-forms should be submitted as soon as possible, as your formal admission and immigration document issuance cannot happen until these are complete:
Exchange Students Required Documents (upload transcripts, passport, financial documentation, English proficiency)
Exchange Partner Information Consent Form (give formal consent for your home institution to be provided with information about your studies as well as your transcript)
Exchange Course Selection (list the courses you hope to take as well as some alternates)
eShip Global (arrange to have your immigration document sent to you)
In these e-forms you will upload the following documents or provide the following information:
Submit your most recent transcript showing all of the college-level coursework you have completed so far. If your transcript does not show which courses you are currently taking, please also submit a printout of your current coursework. You can submit another final transcript later, once you have received final grades for your current courses.
Upload a scan of your passport information page. This is the page that includes your photo, full name, date of birth, country of citizenship, etc.
You are required to demonstrate that you have at least $9500 per semester to support the cost of housing, board, books, health insurance, and personal expenses. Please understand this is an estimate. If you plan to live off-campus, travel a lot within the U.S. before or after studies, or make a lot of purchases, you should be prepared to have access to additional funds.
Examples of financial documentation might include a copy of your or your family's bank account, or a letter from your home institution if you will receive any scholarship money to support your exchange. Keep in mind that not all costs are covered by the exchange agreement, be sure to review the section on Tuition and Fees later on this page.
The University of Iowa requires students for whom English is not the primary language to show documentation of English proficiency. The most common method to do so is to submit the results of a recent TOEFL exam. Students who submit a TOEFL score of 100 or above on the internet-based test, or 530 or above on the paper-based test, with no subscore below 17, are eligible for direct admission with no additional English proficiency testing required.
Students who submit a TOEFL score below those listed above, or who choose to submit another accepted English assessment, may be found to meet the admission requirements, but will also be required to take the on-campus English Proficiency Exam during orientation week. The other accepted English assessments are:
An ACT English subscore of 21
An SAT Reading score of 29
An IELTS (International English Language Testing System) total score of 6.5, with no subscore lower than 6.0
A Pearson Test of English (PTE) score of 53 with no sub-scores lower than 47
Proficiency assessment done by ISEP for its exchange students.
The English Proficiency Evaluation form provided by ISSS to students who attend universities where the language of instruction is in English.
Complete English proficiency information may be viewed here.
Course selection is always a fun part of preparing for a new semester of school. At the University of Iowa the number and variety of classes available is quite extensive. It is important that you choose the right classes for you and your program. You can get an idea of the types of courses offered by browsing the Schedule of Courses at https://myui.uiowa.edu/. You may then indicate which courses you are interested in when you fill out this portion of the Pre-Arrival Checklist. (Note: You may not see the correct semester listed if it is too far in the future, but you can use the fall or spring semester from the previous year as your guide.)
Please note the University of Iowa cannot guarantee any specific course will be available. Exchange students interested in the following programs of study please note:
Tippie College of Business or the College of Engineering will need to receive approval from those colleges to enroll in their courses, and some courses may not be available due to prerequisites or are reserved only for degree-seeking students
Computer Science and Business Analytics courses are currently not available to exchange students at this time due to high demand, so exchange students should not expect to enroll in courses in these areas.
Admissions decisions cannot be completed until this e-form is submitted.
It is also important to ask yourself some questions while deciding which courses to take:
Are there courses my home university requires me to take?
Are there courses within my major I need to take?
Is this course the right level for me?
Am I allowed to take courses in certain majors?
Are there prerequisites for this course? Have I completed those prerequisites?
Will the courses I wish to take add up to at least 12 semester hours (s.h.)?
Please understand that course registration cannot happen until orientation week. The Tippie College of Business and the College of Engineering will attempt to place exchange students in some courses once they review your course requests, but enrollment still cannot be guaranteed for specific courses. This does mean that you may find that some of the courses you hope to get into will be full. The University of Iowa cannot hold space in courses or guarantee enrollment in specific courses for exchange students. For that reason we request that you choose several alternative courses that you can use to fill your schedule.
All exchange students must maintain full-time enrollment and do not qualify to enroll below full-time. Full-time is 12 semester hours (s.h.), as dictated by U.S. student visa laws. The maximum enrollment is 18 s.h. each semester. Most classes meet 2-3 times/week for either 50 or 90 minutes each session. Attendance is required and participation in class discussion is expected.
This e-form will permit you to ensure we have the correct name and email address of your home institution coordinator, and gives your permission for us to discuss the various aspects of college life that are part of an exchange. U.S. laws limit what universities can discuss with others, even exchange coordinators, so this e-form is required to be submitted.
The University of Iowa uses eShipGlobal to mail immigration documents to new students. This allows you to pay for mailing your immigration documents directly to you and ensure they arrive securely. The cost of this is not covered by the exchange agreement. You must use the service to receive your immigration documents. This e-form is the last submission of the first "group" and leads to full admission and creation of the immigration document. DO NOT check the box to go to the eShipGlobal site until you are ready to make the payment at that time, otherwise it will delay processing of your final admission if it remains unpaid. Once this step is complete, it will take up to two weeks for a final review to be made of your application. You will then receive an email notification once you are fully admitted and your immigration document has been shipped.
This second group of e-forms will open up once all of the above have been submitted and the decision to fully admit you is made, and will help you plan your trip to Iowa City. It includes the following:
Applying for your visa
Arranging travel to Iowa City
Applying for housing
Health and insurance requirements
If you intend to live in on-campus housing be sure to fill out the application right away as it can fill up quickly and we cannot guarantee rooms. The Housing application portal is found inside the MyUI system and will be available to you only after you are fully admitted (i.e. after you have submitted all of the contents of the first group of e-forms). If you are having trouble logging in to the Housing portal when you reach this point, contact Brandon Paulson.
You will be assigned to Mayflower Residence Hall – suite-style living where our residents share a bedroom with one other student while sharing an adjoining kitchen and bathroom with their suite mates, 1-2 other residents (totaling up to 4 residents per suite). Sheets, blankets, and towels are not provided. You will be enrolled in the "Black" meal plan, but will be able to change your plan within the first two weeks of the semester if desired. Due to your location in Mayflower Hall with a kitchen, you have the option to adjust your meal plan in August/January if you prefer to prepare your own meals. If you plan to cook in your room, students must provide their own cookware and dishes, which are readily available in the area for low cost.

Single rooms may also be available; if they are, you will be able to make this request in the Housing portal. Please be aware that a single room may be a higher cost than a double.
You may be able to request a different residence hall if you prefer - this will vary from year to year and must be arranged with University Housing and Dining. Be aware that most other residence halls carry a higher cost.

All new international students, including exchange students, must arrive early to participate in mandatory orientation. There will be an extra housing cost to cover the days before the first day of classes. If you arrive earlier to Iowa City than when the residence halls open, you will need to arrange in advance for short-term stay in a local hotel.
All residence halls are open over Winter Break for an additional fee.
If you prefer to live off-campus, visit the website https://offcampushousing.uiowa.edu/
Legal Notice: Students will receive an e-mail confirming the contract and housing assignment sometime during the summer (for fall arrival) or in December/early January (for spring arrival). Students have 7 days to contact University Housing and Dining to make any changes or cancel the contract. After 7 days, the contract becomes legally binding and changes/cancellations will not be accepted without being assessed a substantial fee. More information on this policy can be found on the Housing website or the application itself. You do not have the option to move to an apartment off-campus should you find an interesting situation later. The penalties are described in the contract so read it carefully – University Housing and Dining does not make exceptions.
On-Campus vs. Off-Campus
ISSS typically recommends exchange students live on-campus in a residence hall. The apartment lease system here typically requires you to sign a lease for a full year, usually from August 1-July 31, which would make you responsible for paying rent and utilities even when you will no longer be in Iowa City, unless you are lucky enough to sublease to another person - there's never a guarantee you will find someone else to take over your lease when you leave. You also generally have to provide your own furnishings for an off-campus apartment (a few places do come furnished, but typically are rented quickly). Below are some other things to consider when deciding where to live. Please note that ISSS cannot provide assistance
| | |
| --- | --- |
| Advantages to Living On-Campus | Disadvantages |
| Greater student contact; newcomers who live in off-campus apartments are more isolated and can take longer to establish friendships or adjust. Apartments are unfurnished or minimally furnished, adding the cost of purchasing furniture, housing supplies, kitchen items. By the time newcomers arrive in August, the best apartments are long since taken, making for a tiring and uncertain search. | Reduced privacy. Shared living space. Most upperclassmen live off-campus, thus dorm occupants are predominantly younger, first year students. (Mayflower is the exception. It also houses upperclass students.) |
Once you receive your DS-2019 immigration document, you can make an appointment to apply for your J-1 visa. You can read how to prepare for your visa application and interview here.
The recommended way to travel to Iowa City is by flying into the Eastern Iowa Airport in Cedar Rapids, Iowa, (code CID), which is about 25 miles (40 kilometers) from campus. We do not recommend flying into other airports such as Des Moines or Moline as they do not have direct ground transportation to Iowa City, or the existing ground transportation is slow and runs on challenging schedules. You will be able to find direct flights to Cedar Rapids from larger airports such as Los Angeles, Chicago, Minneapolis, Detroit, Denver, Cincinnati, etc.
University offices do not provide transportation between the airport and campus. We recommend you use one of the official transportation businesses which operate out of the airport. Go to https://flycid.com/ground-transportation/ and scroll down to the sections on Shuttle Services, Taxi Services, or Rideshare Services (Uber or Lyft). There is no bus service between the airport and Iowa City. You should make reservations in advance - understand that the Cedar Rapids airport is a small, regional airport located in the countryside between Iowa City and Cedar Rapids. Transportation is not necessarily immediately available there, and you may be left waiting a long time, or without any ride if your flight arrives late at night, so reservations are necessary. If you arrange taxi service, you need to be sure you do not use the taxi service out of Cedar Rapids, as it will cost you considerably more since they are operating out of a different city.
Traveler's Health Insurance: Your University of Iowa health insurance policy will go into effect the first day of the month in which your classes start and you arrive in the U.S. (usually August 1 or January 1). If you plan to arrive in the United States before that date, consider purchasing traveler's health insurance to cover medical expenses incurred during the interim.
University of Iowa Insurance: The University of Iowa requires all international students to be on a University of Iowa health plan, typically called SHIP, or the Student Health Insurance Plan. Health care services are very expensive in the U.S. While enrolled students do have access to the on-campus student health clinic, Student Health and Wellness, where office visits are free, any medical procedures, tests, labs, and medications will generally cost money. A good insurance program will cover many of those expenses, whereas cheap programs may not, or may require high "out of pocket" payments be made by the student first.
The university does provide a waiver for students who wish to show they are covered by another comparable insurance plan, such as plans offered by home institutions or parents. ISSS cautions about this, because many plans are not comprehensive, may still leave you having to pay significant portions of large bills, and in some cases foreign insurance plans are not accepted by local medical providers. However, if you still wish to receive a waiver, you must submit proof to the Benefits Office of your existing health insurance that is comparable to the University of Iowa plans and also meets certain other criteria in order to not be assessed the monthly Student Health Insurance Program charges. There is a deadline each semester, generally in the first week of September or February, to take care of this, otherwise you will be charged for SHIP coverage. This can be done via the MyUI system, and specific instructions as well as the deadline are provided during orientation.
You may read more about health insurance at https://hr.uiowa.edu/benefits/health-insurance
All new students at the University of Iowa are required to show they have received two MMR (Measles, Mumps, Rubella) vaccinations OR arrange to receive these immunizations during orientation week.
New international students are also required to have a test for Tuberculosis conducted on campus during the first part of the first semester.
If you can provide documentation that you already have had the required MMR shots, you can provide that evidence following the instructions below. The TB test is required to be done here on campus, regardless of having had one previously.
Please see the section on International Students on the university's student health website.
Exchange students are required to attend new international student orientation, which occurs the week or two before classes begin each fall and spring semester. Currently graduate and professional students who come for the fall semester report for orientation two weeks before classes begin; undergraduate students reporting for the fall have orientation one week before classes begin. All international students who start in the spring semester will report for orientation one week before classes begin. The specific schedule is found on our New Students website. You should plan to arrive in Iowa City no later than the arrival deadline date listed.
During orientation week you will be given information on billing, health services and requirements, take the English Proficiency Exam if required, complete the immigration check-in and attend the J-1 regulatory session, meet with the academic advisor to enroll in courses, and participate in other workshops and social events.
Note that exchange students are not required to take the online course Success at Iowa - this is only for new degree-seeking students. You will likely hear it referred to, but this will not apply to you.
Also, before classes begin you will notice tuition and fees appear on your U-Bill. This is normal due to the billing system timeline, and will be adjusted for exchange students during the first week of classes so that tuition and mandatory fees are removed. You do not need to make any U-Bill payments for this. Please see the section on tuition and fees below.
The information on this page is specifically written for exchange students and may not apply to other international students. However, additional helpful information may be found on our main website for new students, including: the dates of orientation, shipping belongings to Iowa City, paying the university bill, the Guide to Living in Iowa City, and other helpful information.
The Global Buddies program is a recognized UI student organization that matches new international exchange students with domestic students who have been on campus for at least one year. Domestic students are often past study abroad participants. Global Buddies is a very active group that creates programs and social events geared toward students who are only here for one or two semesters, and you can choose how much you wish to participate. Events include: Thursday Social Hour, local trips, bowling, pot luck dinner, pumpkin carving and much more. I highly recommend becoming involved with Global Buddies! Apply on the Global Buddies website if you'd like to join.
Exchange students on a University of Iowa DS-2019 may be eligible for employment under the following conditions. More information is provided upon arrival.
On-Campus Employment - You may be eligible to work on campus (i.e. for the University of Iowa) during each semester of study. This will require a special work authorization letter from ISSS. This is the only type of employment available while the semester of study is in session.
Academic Training - Exchange students may also qualify to engaged in an internship (paid or unpaid) for a brief period of time following the end of your final University of Iowa semester. The work must relate directly to your major area of study, and the duration is based on the amount of time you were here on the exchange (one semester - up to four months; two semesters - up to nine months). You must make arrangements with your home institution regarding their expectations/requirements for when you will return.
Academic Training will not be granted if a student has an overdue university bill, or a University of Iowa grade point average that drops below 2.50.
Exchange agreements cover only specific expenses, so students need to be aware of and prepared to pay those expenses not covered by the agreements. Failure to pay the university bill can result in not being able to register for the next semester, and unpaid bills will be reported to collections agencies and create negative financial records, which is a problem if you ever plan to return to the U.S. in the future.
In order to obtain the DS-2019 immigration document and the J-1 visa, students must show documentation that they have sufficient personal funds of $9500 per semester to cover these additional expenses.
You must monitor and pay your university bill (the U-Bill) each month, which will include the expenses listed below and any charges you add to your student account, such as printing, coffee or food, athletics tickets, books, etc. Beginning in Fall 2019, because of an increase of exchange students not paying the university bill, ISSS will monitor the status of the U-Bill; if an account is overdue at midterm (October 15 or March 15), students will be contacted and given a deadline to rectify the bill. Home institutions will be notified as well. Failure to pay an overdue bill by the deadline provided may result in actions up to and including termination of legal status.
Covered by Exchange Agreement or Waived by the University
Tuition
Mandatory Fees (Technology Fee; Student Health Service Fee; Mental Health Fee; Student Activity, Student Services, Student Union Fees; Building Fee; Arts and Cultural Events Fee; Recreation Facility Fee; Professional Enhancement Fee) See https://registrar.uiowa.edu/mandatory-fees
International Student Fee and International Orientation Fee
Admission Application Fees
Students admitted to the Tippie College of Business only: College of Business Computer Fee
Student Must Pay
eShipGlobal fee to mail immigration document
Housing Application Fee
Room and board (including cost to move in early for mandatory orientation and additional fee if staying in residence hall over winter break)
Books
Personal expenses
Any charges made to the student ID account – campus food, purchases from the UI bookstore, printing, etc.
University of Iowa health insurance; dental insurance if selected
Any course fees for specific courses, such as an art materials or lab fee
Registrar's Records and Documents fee ($75, only if enrolling for a second semester)
Travel to/from the U.S. and inside the U.S.
Students required to take the on-campus English Proficiency Exam
Students who are required to take English as a Second Language (ESL) or Intensive English courses may be responsible for the tuition for these courses, depending on the exchange program, as the ESL program is separate from the University of Iowa.
Beginning in Fall 2019, all exchange students will need to request transcripts directly from the Registrar. If you have left the US by the time the transcript is ready (usually about two weeks after the semester ends), the Registrar will require you to pay for the cost of express mailing to any address outside the U.S.
Transcripts may be requested online via the MyUI program. You may also review information on the Registrar's website.
A few things are different for students attending through the ISEP program:
Insurance – Although you will be covered by ISEP health insurance, you must still show proof of that coverage to the Benefits Office by their established deadline each semester (see the health insurance section above). Otherwise you will be charged the cost of University of Iowa health insurance.
Room and Board – The University of Iowa has a special process in place for ISEP to cover the cost of your room and board (equal to a standard double-occupancy room in Mayflower and the Gold meal plan). These charges may initially appear on your university bill during the first week of classes, but payment will be arranged with ISEP. If you choose to have a single room, you will receive compensation that equals your share of the cost of a double-occupancy room, then you will be responsible for paying any costs in excess of that amount.